Profile
Hello! I'm Geoffrey Miller.
I'm a qualified translator in Germany and the United Kingdom for German.
I'm also a sworn (certified) translator, authorised by the President of the Higher Regional Court of Koblenz for judiciary matters in the state of Rhineland-Palatinate, Germany.
This title has validity throughout Germany, not just in the state that it was obtained. As a sworn translator, I can provide certified translations of documents such as certificates, reports and contracts.
I'm a New Zealander and native English speaker. I also lived in Germany for many years.
I translate written texts from German into my native language, English.
I specialise in translating texts in the business, marketing, finance and legal fields.
Alongside my German qualification, the State Examination for Translators (Hesse), I also hold the British equivalent, the Diploma in Translation from the Chartered Institute of Linguists in London. Through these demanding qualifications you can be sure of the quality of my translations.
As a qualified Business Legal Assistant (ZAR), I have particularly sound background knowledge for translations relating to aspects of business law.
I'm a member of Germany's Federal Association of Interpreters and Translators - also known by its German initials BDÜ. The BDÜ is a professional association dedicated to maintaining and improving translation standards.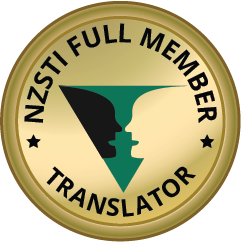 In New Zealand, I'm a member of the New Zealand Society of Translators and Interpreters (NZSTI). You can also view my NZSTI profile on the society's website.
My NZSTI membership means that I'm also able to provide certified translations that are recognised throughout New Zealand.
Career
Along with my translator qualifications, I also hold a Master of Arts (M.A.) in Teaching English to Speakers of Other Languages (TESOL) from the Victoria University of Wellington (New Zealand).
I completed my four-year first degree, a Bachelor of Arts (Hons.) in Politics and German at the University of Otago (Dunedin, New Zealand).
In 2008, I moved to Germany to take up a teaching position in the Department of English and Linguistics at the Johannes Gutenberg-University of Mainz. As a teaching lecturer, I taught English language courses, including many translation courses.
The insights into the English language that I gained during my teaching career are highly relevant to my translation skills as well.
I've been working as a freelance translator since 2016. I currently work mainly with corporate clients located in Germany and Switzerland.